The best-selling baby food maker, only better. Our European-made Babycook Neo comes with a new and improved glass bowl and stainless-steel steam basket. Babycook Neo's four settings eliminate the need for pots, pans, blenders or microwaves, so that making baby food is as simple as possible. Create fine purée to chunkier purée textures, and everything in between – the unique pulse/blend feature ensures that your baby is getting the correct consistency of baby food at every age. The patented steam cooking system turns off automatically, so you never have to worry about watching over the Babycook or overcooking your baby's food. As a bonus, the newly designed reservoir is easily accessible for hassle-free cleaning!


The Beaba Babycook Neo French Touch Bundle Pack includes:
- 1x Babycook Neo - French Touch
- Set of 3 Glass Conservation Jars Blue (150ml, 250ml, 400ml)
- 1x 1st Stage Ergonomic Silicone Spoon Blue
- 1x Multiportions Silicone Freezer Tray (6x90 ml)
- Comes in a colourful Little Frenchie design Gift Box!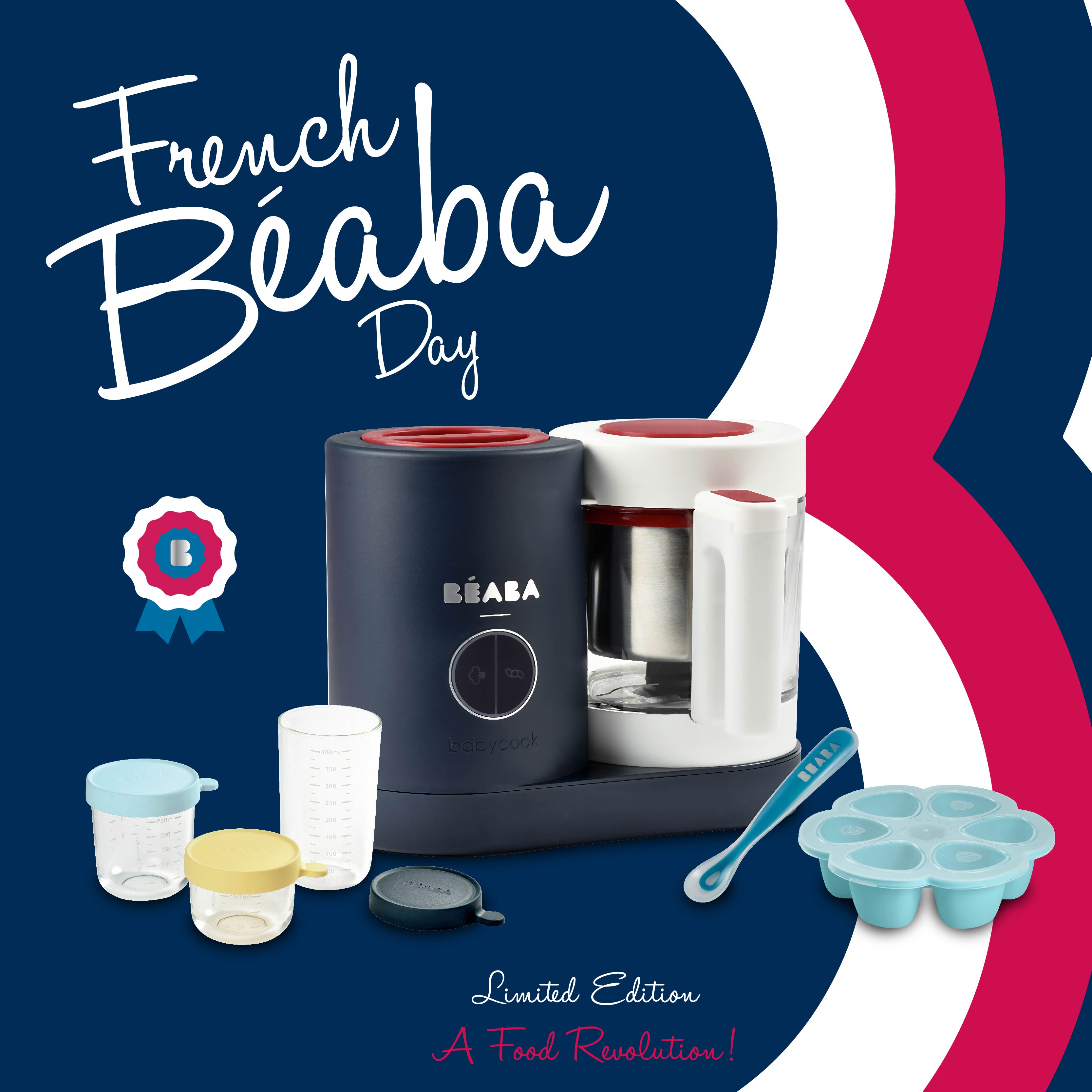 Product Features:
- Healthy food preparation, respecting the environment and the nutritional quality of foods.
- Uniform texture of preparations and adapted to the different stages of food diversification for baby.
- High quality glass bowl which does not degrade with time and preserves flavours & a stainless steel steam basket.
- Intelligently designed with four settings: steam cook, blend, reheat or defrost.
- High quality double level stainless steel blade for uniform tailored mixing (smooth, mixed, lumps, chunks).
- Stainless steel tank with wide opening for practical access and good filling level visibility (level 1, 2, 3).
- Soft steam modulation cooking to preserve nutritional quality of foods, to collect the right amount of cooking juice, and to limit water consumption.
- Large capacity stainless steel basket (4 x 150gr portions / 3 x 200gr portions) with ergonomic handle to easily transfer food at the end of the cooking cycle.
- Easily accessible reservoir
- Unique, one-handed operation
- Patented steam cooking system
- 5.2 cup (1250 ml) dishwasher safe bowl
- BPA, Lead & Phthalate free
- Made in France
- Made for local (SG) voltage with UK plug (3-pin)
- Recommended for babies 4+ months
- 4 in 1 (new generation) food maker
- Care: cover, basket, lid, knife: wash by hand or dishwasher. Body of device: clean with soft damp cloth. Do not immerse.




Caution:
DO NOT WASH GLASS BOWL WHEN HOT. IT MAY CRACK OR SHATTER. LET IT COOL TO ROOM TEMPERATURE BEFORE WASHING.